We often hear the term "Internet of Things" or IoT as it's presented as. To me, this is a simplistic way of describing the incredibly complex task that network engineers have to connect devices, networks, computing power and data insights to deliver value to consumers with minimal effort.
At DCC, we manage an incredibly complex ecosystem, with over 12 million meters connected to our platform and close to 17,000+ meters being added every working day. When the smart meter roll-out is complete, we will have over 30 million homes and 56 million meters connected to our digital infrastructure. I call this platform the "IoE", or Internet of Energy, as we focus on becoming the digital spine for an energy industry.
In 2021, we can now connect the smallest sensor costing pennies, the most complex machines costing hundreds of millions (aeroplanes), and cities representing billions of pounds of investment, to enable a level of digital intelligence. This is where IoT or IoE can assist in the operation and optimisation of the infrastructure that connects us all to our homes, transportation, workplace, and cities to enable smarter living. The single purpose of delivering this infrastructure is ultimately in driving value to every consumer in the way we live, work and play.
Now, let me give you an insight into the digital spine of a future energy system or our IoE. This is the system of a smart energy infrastructure that joins Generation, Distribution, Storage, Load and Energy Meters. Digitising the infrastructure into a single ecosystem enables the grid to operate more efficiently, resiliently, and reliably, with sustainable resources while driving value to the consumer.
"For us at the DCC, the Internet of Energy is building on the principles of IoT, but we also design and build in security, privacy, and interoperability."
These principles are embedded into DCC engineering because we have an obligation to the Critical National Infrastructure (CNI). As we connect every home to the critical infrastructure that enables the connected life we live, we must embed and ensure we operate to CNI standards while operating at scale.
By 2025, working with our customers, most UK homes will be connected to the smart meter network. This will result in the DCC operating the largest (by coverage and connected device) IoE platform in Britain. The DCC message platform will be carrying billions of messages a day in near real time, some connecting the smart systems that charge our vehicles, operate our heating, and support the Net Zero journey for the UK. Future use cases for the DCC's infrastructure include protecting those at risk of fuel poverty and enabling people who need medical monitoring to stay in their homes for longer.  
IoE and the platform that the DCC operates will ensure security, privacy, and interoperability, that will enable the services that consumers expect from a digitally connected world. Data privacy is one of the unique services that the DCC supports. We operate under a license from the UK Government so we can only share data with authorised users.
At DCC, our goal is collect and distribute the information required for our customers to operate, optimise, and ensure the services we all buy are resilient, competitive, and available all the time.
The DCC IoE platform will allow consumers, communities, and suppliers to coordinate supply and demand autonomously among themselves to match supply and demand requirements with smart infrastructure.
Digital transformation doesn't come without its challenges. Data doesn't make our platform, people do. We will continue to and ensure we attract, retain, and train the right talent with the skills and knowledge to design, build and operate our digital energy infrastructure.
With the network in place, we believe in enabling the innovators, the entrepreneurs, the free thinkers, and the challengers to come up with the solutions that deliver value to us all.
At the DCC, we connect our users to their customers, we ensure smart remains smart and that secure, truly is secure.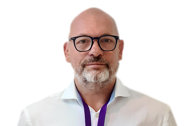 Meet the author
Mike Hewitt
Chief Technology Officer