Electric Vehicles, EV, eMobility, and Range Anxiety. They're all words that I'd heard before August of 2020, but weren't terms I lived with daily. In September 2020 I joined the EV community all that changed. My experience has given me some valuable insight into what's needed for Britain to have a EV charge point network that is accessible and fair for all.
Yes, Range Anxiety is real. On a journey to London, I found myself with 130 miles of range and 135 miles to my next public charge point. I felt the anxiety as I passed multiple motorway services on my journey, and my remaining range decrease by the minute. I made it, and I experienced the feeling, and now I have to deal with it.
In my first month, I researched for hours to ensure I had the widest choice of Charge Point Operators. I've had to sign up to Polar, PodPoint, ChargeYourCar, EcoTricity, Tesla and Shell Recharge, to ensure I have the greatest choice when I need it. I have the RFID card, installed multiple apps on my smart phone and registered my details many times for different CPO's (Charge Point Operators). It's time consuming, and confusing.
Generally, I charge at home or at work over 90% of the time. At home, I charge my car overnight using a low-cost time of use tariff enabled by my SMETS2 smart meter. But I've had to install a 7kW home charger that's not smart and schedule my charge time to ensure I maximise the time of use tariff. I'd love to have a SMART charger that dynamically charges based on flexible time of use tariffs as I leave my car plugged in when it's at home.
At the DCC, we're working closely with customers, government, and the best global technology providers to understand how our network can enable fair EV charging for all.
Most charging will happen at home, on the street nearby, or at work, and we understand the charging system must accessible for everyone. That doesn't just mean compatible plugs, it's how we ensure consumers can charge up regardless of which supplier they use. And as well as being fair, the charge point network needs to be safe. We understand cyber security and can ensure that a charge point network has security baked in, mimicking the controls already in place for the UK's smart meter network. Making sure the charge network is continuously monitored will be important too. A charge point network enabled by the DCC would leverage the same monitoring capability that is prebuilt for the domestic smart meter system.
Britain's EV smart charging network will have to happen on a massive scale and our grid will need to respond to increased and variable demand. The DCC network can enable smart and dynamic load control in a secure manner while ensuring we deliver a standards-based approach for operators of charge point systems.
We believe the network will allow system operators, charge point providers and utilities to work together to provide EV smart charging that's fair for all. That's why we've kicked off a product development programme that brings together stakeholders across the EV ecosystem in a three staged approach.
Stage 1 is our Proof of Concept or POC used to support domestic charging with an eco-system of industry partners. The PoC will show that we can enable a smart charge point network in a secure and scalable manner.
The next stage will be to demonstrate that we can interface with our DCC users and their technology systems to enable smart EV charging.
Stage 3 will be the development of an MVP – or minimum viable product –bringing the solution to life. This will involve making system, regulatory changes, and enhancements to bring a production ready capability to all DCC users on the DCC's secure platform.
My simple message today is, to energy consumers, we have your interests at heart, we're here to ensure security, enable SMART and ensure you always get the best deal available. To DCC users and charge point operators, we're here to enable your innovation by reuse of an existing infrastructure. And to smart charging manufacturers – we're here to future proof your solution so your customers have the confidence that they are buying the right product for today.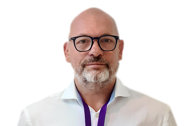 Meet the author
Mike Hewitt
Chief Technology Officer