For his second blog, our Chief Technology Officer, Mike Hewitt, shares his thoughts on the value that energy data will have in a digitised world, and how the DCC's digital spine will securely transport data to empower Britain's energy consumers.
For my second blog, I'm going to build on last month's subject of digitising our energy network and the value that data has in a digitised world.
Data, and the use of it, has transformed every aspect of life; we leave a digital footprint in almost everything we do. It supports the delivery of existing services (energy billing), innovative new services (time of use tariffs), and can be used to create entirely new products and services affect all parts of our lives. As businesses embrace these technologies, data creates opportunities, jobs, and can open up entire new markets and create value to us all as consumers.
The DCC is a secure messaging platform that will connect every domestic energy consumer to their energy provider (electric and gas), and it is this data that has the potential to provide value to us all. From lives saved due to data driven medical discoveries, to helping us understand our exercise and sleep patterns, to how much time we need to allow on a journey, it's data that enables these services.
Electricity will become a significant proportion of the total energy that we use as we decarbonise on our journey to Net Zero greenhouse gases. Electricity is powering the electric cars and transport that move us and enabling the electric heat pumps that will warm our homes. Data will be critical in enabling the optimisation of our energy infrastructure to ensure we can store and distribute energy as needed, where needed, and when needed.
Over the next decade, infrastructure, appliances and vehicles will become smarter, and so will the smart metering infrastructure delivered by the DCC. Our infrastructure enables interoperability of in-home meters as we switch suppliers, it can enable security and interoperability as we build an electric vehicle (EV) charging infrastructure, and will provide insights and alerts for the distribution network operators to ensure optimisation of our energy supply infrastructure. As consumers, we will all benefit from smarter energy tariffs that vary by time of use and will give us more choice on when and where energy is consumed.
We want to ensure that the public are active agents in enabling a data rich future, and key to that is ensuring we build trust by maintaining high data protection standards without creating barriers to data use. Data is an incredibly valuable resource. However, its full value is only realised when the data is shared, and when it is available in a secure, safe, and appropriate way.
At the DCC, we ensure security of consumer's data – in fact, the DCC cannot see consumption data at all. We ensure only authorised parties can provide a request to the DCC for meter information, and we verify the request is valid and consent is provided before we pass that information over our smart meter infrastructure. The data is encrypted across its journey and the network is monitored for unusual activity 24x7 by the DCC Security Operations Centre. The data can help drive new ways for consumers to find the best energy products to meet their specific needs, and in the future, consumers will be rewarded for playing a smarter role in energy consumption.
In November of 2020, Smart Energy GB published a report showing how data from smart meters could transform the way we care for the most vulnerable in society. Energy data usage patterns could be used in a non-intrusive way to understand the daily habits of people living with illnesses such as Dementia, Parkinson's, and depression, enabling additional support to be provided in an appropriate way.
Over 2021, the DCC will work with the Government to ensure we support and enable a National Data Strategy. We will enable innovative new capabilities like those in Smart Energy GB's, "Smart Future of Healthcare", to ensure that the DCC's digital spine securely transports data to deliver a digitally enabled future for the UK's energy consumers, installing confidence and delivering value to those who generate the data.
Next month, we will look at how the smart meter infrastructure could enable smarter homes, smarter cities, a smarter energy infrastructure and a smarter path to Net Zero.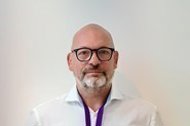 Meet the author
Mike Hewitt
Chief Technology Officer
Business & Development Plan 20/21 - 24/25