What we did...
On the 31st March 2020, we released a questionnaire inviting our customers to respond on how we could re-align the ECS offering to better suit your needs. This was a different approach to engaging with you, more digitally focused and not the traditional formal consultation.
In support of this approach we held a customer webinar to brief you all on the questionnaire's principles and suggestions discussing how we could work collaboratively to shape this service going forward.

What is ECS?
Elective Communication Services is a service that allows you to request tailored service requests outside of those offered as standard. DCC are mandated to support and guide you through the development and implementation process.
Submitting a request is free and our expression of interest form is the way to initiate discussions. At present, any ECS requests implemented offer you 6 months exclusivity, although we are exploring the option to extend this period to offer a greater value proposition to you. 
We operate ECS principles derived from the Smart Energy Code but feel that as market requirements and demand cases have evolved since its inception, we are aiming to re-align ECS to be a better fit.
We've also suggested other optional or tailored services that sit outside the current SEC definition of an Elective Communications Service but we feel would be of interest to you, to enhance and develop your services further for your customers. 
This is a real opportunity for you and your business to maximise value out of DCC, without compromising the core DCC services you currently receive. 
What did you tell us?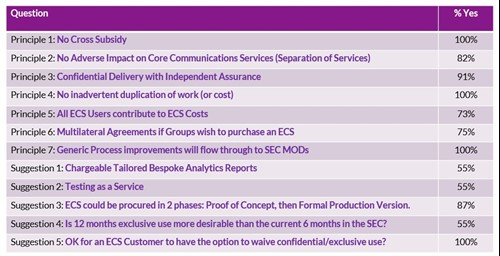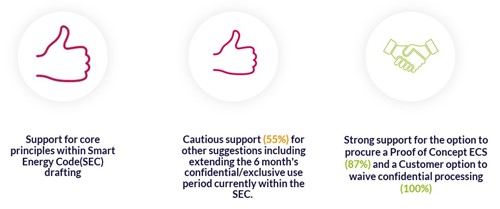 So what's next?
DCC welcomes these responses, and the rich additional comments provided by you as the users of this system.
We are actively considering how your feedback shapes next steps. Future planning and development to be determined after review with internal stakeholders in conjunction with the Business Development Plan
Updates will be published to DCC Customers from next month to keep you informed!
Thanks to all who contributed to this exercise.